Christmas season is in full swing in households across country, and the White House is no exception.
A few weeks ago, First Lady Melania Trump gave us a glimpse into the iconic home's Christmas decor, and it looked stunning.
This year, the first family are paying tribute to 200 years of holiday traditions that took place in the White House, hence they've chosen the theme "Time-Honored Traditions."
"The President, Barron, and I are very excited for our first Christmas in the White House," she said in a statement. "As with many families across the country, holiday traditions are very important to us. I hope when visiting the People's House this year, visitors will get a sense of being home for the holidays. On behalf of my husband and Barron, I want to wish everyone a Merry Christmas and joyous holiday season."
Now, Melania has once again taken to Twitter to reveal the first official White House Christmas portraits of the POTUS and FLOTUS.
Melania, 47, shared the special photo on Twitter, and took the opportunity to wish everyone a Merry Christmas.
In the photograph taken by White House photographer Andrea Hanks on December 5, the First Lady and President Trump, 71, posed in the Cross Hall and are seen holding hands while dressed to the nines in black ensembles. Melania is wearing a beautiful sheath dress, and the president kept it classy in a tux.
The Trumps aren't the only couple spreading cheer with their Christmas portraits. Vice President Mike Pence and his wife, Karen, also uploaded their official Yuletide portraits, taken by Myles Cullen, this week.
"Our official Christmas portrait has been released! We took this photo on Saturday, December 9, at the Vice President's Residence at the Naval Observatory in Washington, DC," Karen wrote in the caption of the photo posted on Twitter.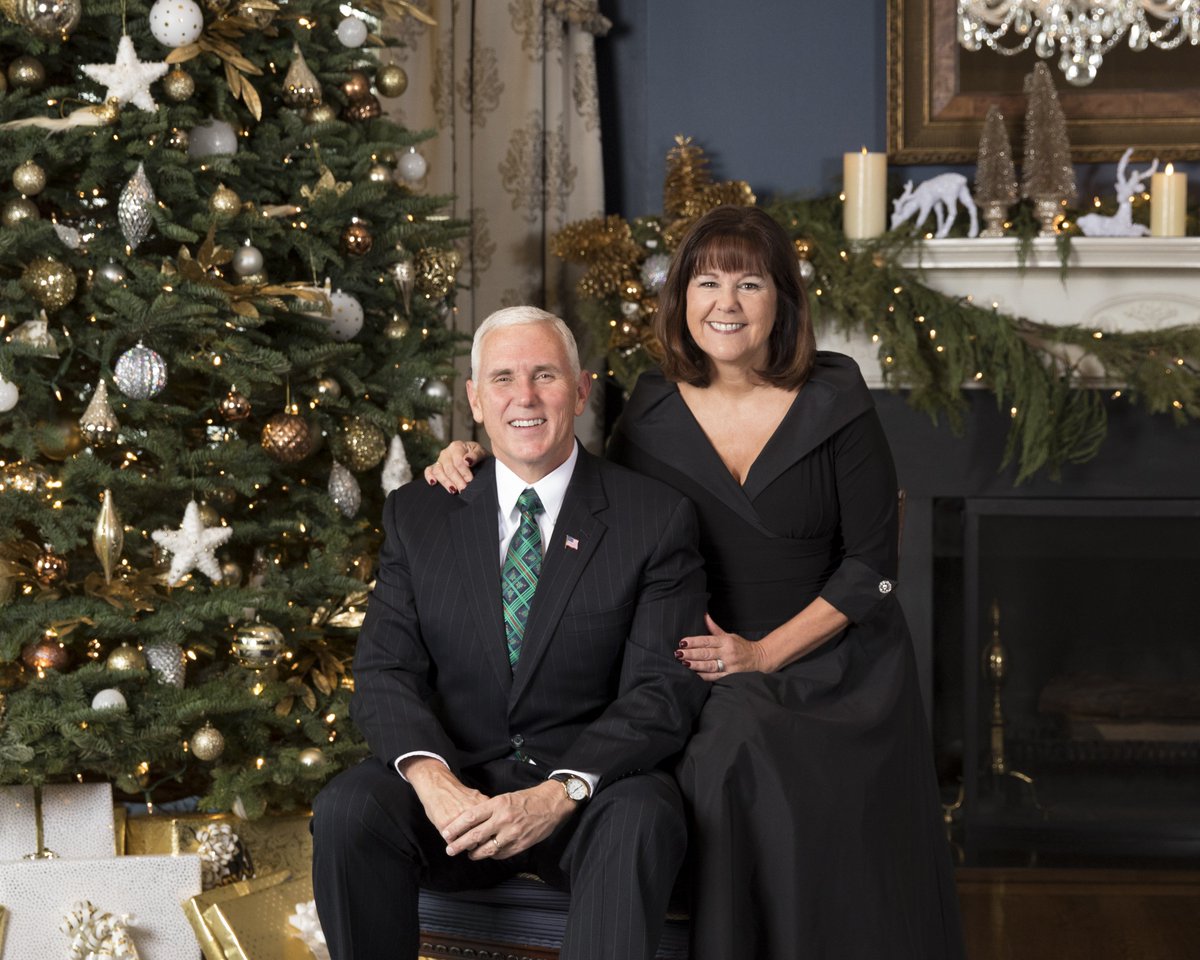 The rest of the president's family are also getting into the spirit of the holidays. First daughter Ivanka Trump took to Instagram to share a snap of her family, while wishing everyone a happy Hanukkah.
What do you think of Donald and Melania's portrait? Let us know!