Celebrity chef Guy Fieri often takes a lot of heat for his boisterous personality and his constant reference to "Flavortown" (wherever that is.) But what no one can deny is that he's an incredible chef. With 6 restaurants to his name, and a 10-year run on the Food Network, Fieri knows how to run the food industry.
His restaurants include:
Guy's Burger Joint
Guy's American Kitchen and Bar
Guy's Baltimore Kitchen and Bar
Guy Fieri's Chophouse
Guy's Vegas Kitchen and Bar
Guy's Mt. Pocono Kitchen and Bar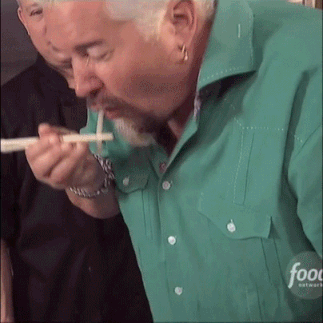 Unfortunately, Guy Fieri was one of the many California citizens who had to evacuate their homes due to the wildfires ripping across the state. Fieri, who calls Santa Rosa home, says it was 2 a.m. when they had to leave their home.
"The smoke was really bad," Fieri told KQED. "We had to evacuate at 2 in the morning, and we grabbed what we could, taking pictures off the wall as fast as we could. Jumped in the truck, loaded in the dogs, and away we went."
While it would be totally normal for a family to focus their attention on their own well-being during a time like this, Fieri decided to use his celebrity to help others.
"I called the Salvation Army in Santa Rosa and I said, 'I'm ready, I've got an army, I'm ready to help,'" Fieri told KQED. "And they said, 'Bring it.'"
Fieri gathered his workers and began preparing meals for all the evacuees and first responders.
"Firefighters have been eating out of their big lunch packs, they get these big package meals, which are awesome. But nothing beats a hot meal," the celebrity chef said.
Fieri and his crew have prepared meals of pork loin, mushroom gravy, a pineapple apple teriyaki sauce, braised cabbage with apple, onion and brussels sprouts, mashed potatoes and baked beans.
"This is the least we can do," Fieri says. "We're so sorry for friends who have lost homes. There's a lot of really good people coming together. It's terrible in so many ways, but it's wonderful to see great people coming together."
Fieri was able to pull all this together with the help of Operation BBQ Relief, a non-profit which helps feed those affected by natural disasters.
You can watch Fieri's interview with KRON 4 news here!
GUY FIERI HELPS FIRE VICTIMS: Celebrity restaurateur Guy Fieri is helping to feed the victims of the North Bay firestorms that have left thousands homeless. He talked with Stanley Roberts KRON 4. More video: http://kron4.com/2017/10/12/interview-celebrity-restaurateur-guy-fieri-talks-about-north-bay-firestorm-relief/

Posted by KRON 4 News on Thursday, October 12, 2017
Thank you to Guy Fieri for putting others before himself and using his status for the greater good!