If there is a soul on the planet who does not love Julie Andrews, I'd like to meet them so I could ask them what's wrong.
The wonderfully wonderful Disney star has entertained us for years, starting with The Sound of Music, and even more recently in The Princess Diaries.
Now, with her own Netflix show Julie's Green Room, Andrews has been in the public eye a little more often.
The author, musician, and movie star recently joined Facebook, and could potentially be the only person to get exclusively positive responses on her page.
Currently doing a media tour for her role in Despicable Me: 3, Andrews stopped by The Tonight Show with Jimmy Fallon. As always, she was incredibly polite and poised.
Fallon brings up her iconic twirl in The Sound of Music, and wonders if it's maybe a green screen or built set.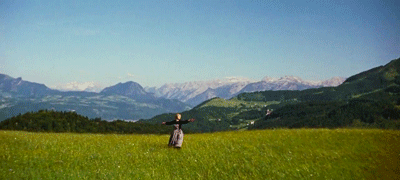 Julie Andrews was quick to correct Fallon, letting him know it was all legit.
Continue reading to find out how the scene was shot, and how she ended up being flung through the air on multiple occasions!
"Are you kidding? That's the real, real thing!" Andrews exclaims before jumping into her story about filming.
Take a look at the charming clip about a helicopter coming towards her like a crab!