Stephanie Germanotta, best known as Lady Gaga, was born to be a star.
The Born This Way singer suffered years of hardship trying to get her sound out to the world but never gave up. She made her big break in 2007 when Akon signed her to his Kon Live/Interscope label. She released her first single, Just Dance, in 2008 and instantly made history as one of the best-selling singles of all time.
That was just the beginning of Lady Gaga's record-breaking and provocative career. The pop star combined her love of music, fine art and pop culture to create albums and personas that forever changed the pop world.
She held her own alongside established female artists such as Madonna, Katy Perry, Taylor Swift and Beyonce by being constantly innovative, daring and true to herself.
Lady Gaga is more than just a pop singer in outrageous outfits. She's also a talented actress as proven on American Horror Story: Hotel, a fashion icon and a social activist who isn't afraid to speak out on important issues.
She once said, "I'm just trying to change the world, one sequin at a time," something that she's proven to be true since she first debuted on charts around the world. Lady Gaga is one of the best artists of this generation and here are 10 instances that back up that fact.
1. She Has Won Multiple Awards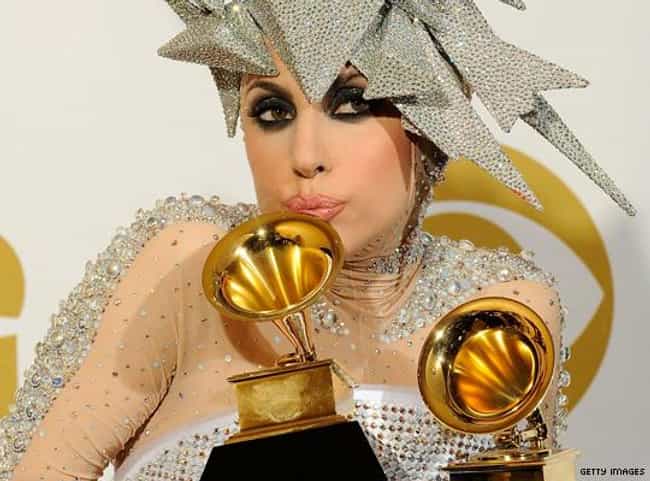 Lady Gaga has won six Grammy Awards, a Golden Globe, a Bambi Award, an American Music Award, 13 MTV VMAs, and over 150 awards for her music, activism & fashion. She's also been nominated for 2 Emmy's and an Oscar.
2. She's The Queen Of Social Media
Gaga holds plenty of social media records across multiple platforms. She was the first artist to ever reach one billion views on YouTube. She also was the first person to reach 10 and 20 million Facebook likes. She also dominated Twitter by being the first person to hit 10, 20, 30 and 40 million Twitter Followers.
3. She's A Record Breaker
The Poker Face singer currently hold 12 Guinness World Records! Not only has she broken records for her musical work, she's also in the books for titles like 'Most Searched-For Female on the Internet' in 2011 and 'Most famous celebrity in the world' in 2013.
4. Her Music Is Popular Around The World
Gaga has been on the path to world domination from the start. She is the only artist with two singles, Just Dance and Poker Face, that sold 7-million in downloads each.
5. She Delivers Amazing Live Performances
The super star's talent isn't just limited to the recording studio. She has a great stage presence and has proven this over and over by performing on some of the world's biggest stages. She is the first artist to play the Grammy Awards, the Super Bowl, and the Academy Awards in the same year. She'll be headlining Coachella this year making her the first female artist to do so in 10 years!
6. She Slayed The SuperBowl Halftime Show
Performing at the SuperBowl is no easy feat but Gaga made it look like a piece of cake. She headlined the SuperBowl 51 halftime show and delivered a killer performance that was watched by 117.5 million viewers, making it the second most watched halftime show ever.
7. She Isn't Afraid To Step Outside Of The Box
One of the qualities that makes Gaga stand out among her peers is her ability to constantly reinvent herself and push the boundaries. She isn't afraid to be herself which is a mark of a true artist. This is evident through her fashion choices (meat dress), music videos (Alejandro) and song lyrics.
8. She Is Super Smart and Hard-Working
Gaga credits her parents for instilling the value of hard work and education in her from a very young age. At 17, she was 1 of 20 students to gain early admission into the Collaborative Arts Project 21 (CAP21), a musical theater training conservatory at Tisch School of the Arts at NYU. She's a classically trained artist and plays the piano, keyboard and synthesizer. She writes her own music and unlike many pop artists today, Gaga actually sings live while dancing during every show.
9. She's Changing Lives With Her Activism
Lady Gaga created the Born This Way Foundation with her mom to "supporting the wellness of young people and empowering them to create a kinder and braver world." She uses this platform to speak and raise awareness about bullying, sexual assault, LGBTQ issues, feminism, mental health, racial problems and so much more. The foundation states in it's mission that it "leverages rigorous academic research and authentic partnerships in order to provide young people with kinder communities, improved mental health resources, and more positive environments – online and offline."
10. She Is Dedicated To Her Fans
What's an artist without an audience? Lady Gaga understands the importance of her fans which is why she never takes them for granted. She's dedicated to her Little Monsters. Lady Gaga loves her fans and it shows through her interactions with them in person & online.
In addition to all of the above awesomeness. Lady Gaga is scheduled to kick off her 5th world tour this April and she's also slated to appear next to Bradley Cooper in the remake of 'A Star Is Born.' It seems like nothing can stop Mother Monster these days! We look forward to what the next decade has in store for her.