Be still my pre-teen heart. My favorite movie of all time is coming back to the big screen.
To be frank, I've been waiting for this news for 25+ years now. The entire film could just be the two of them farting into a microphone for 90 minutes and I'd still pay to see it. So long as it was called Bill & Ted 3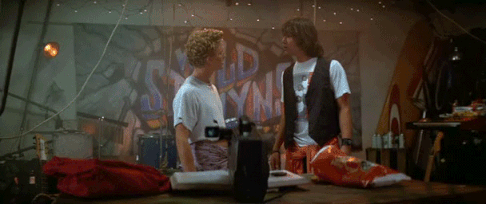 Bill & Ted Face the Music has begun production
The sequel will be released 31 years after the 1989 original, which followed two adorable slackers travelling through time.
Titled Bill & Ted Face the Music, it will hit theatres in August 2020.
It picks up with the best friends, now middle-aged, as they meet a visitor from the future who warns them only their song can save life as we know it and bring harmony to the universe.
Original creators Chris Matheson and Ed Solomon penned the script for Face the Music, with Galaxy Quest's Dean Parisot directing. Scott Kroopf will produce with Alex Lebovici and Steve Ponce of Hammerstone Studios, with Steven Soderbergh serving as an executive producer alongside R. Scott Reid, John Ryan Jr., Scott Fischer and John Santilli.
What will happen to Rufus?
Unfortunately the late great George Carlin died on June 22, 2008 of cardiac arrest at age 71.
Ed Solomon revealed in a new interview that this new movie will in fact address the absence of Rufus, while also paying homage to this beloved character. In an interview with Movieweb he said:
"George Carlin is so deeply missed by all of us. There is a... not just an homage to him, it's more than that. His absence is a part of the whole movie.

There's actually a scene, one of my favourite scenes in the whole movie, where middle-aged, 50-year-old Bill and Ted return to the Circle K and see their teen selves and Rufus, and actually interact with their teenage selves, played by their actual teenage selves. They return to that scene at the Circle K when Bill and Ted first meet themselves, only now they're watching their younger selves and looking at the exuberance and joy that they had at that time in their lives. And they see Rufus, they see George Carlin. There's also a character in the movie named Kelly, which is George's daughter's name, who has a very significant role in the journey, so George is a deep, deep part of it."
All that to say: Stay bodacious, friends.
Will you go see this movie?