Every year, more than 3 million tourists visit the Tower of London. It's been a "must-see" destination in the city for hundreds of years, and between the famous Crown Jewels, tours of the grounds and taking pictures with the guards, there's lots to see and do. But one pair of tourists got a very embarrassing souvenir from their visit.
Video from another tourist, which was captured last year but has gone viral this week, shows a woman who allegedly threw her glove on the ground, expecting a nearby soldier to pick it up for her.
The tower's Queen's Guard are famous around the world for keeping a straight face and standing completely still, no matter what goes on around them. Tourists like to have a little fun, joking to make them laugh, but they're trained to stay calm no matter what.
That's because the Queen's Guard is made up of real soldiers, not actors in funny costumes. It's their job to guard the Jewel House and royal residences like the Tower, and they take their job seriously.
This tourist wasn't expecting that she would have to actually handle the consequences of her actions...
The Tower's famous Yeomen Warders with their bright red outfits are also more than just ceremonial. They're all Armed Forces veterans with decades of service, so one didn't hesitate to shame these tourists for their disrespectful behavior.
The video doesn't actually capture the woman throwing her glove, but witnesses who uploaded the video say she did. The Yeoman who approaches her also asks if she did it, then puts her in her place.
"He's a soldier and he serves this country and he deserves to be treated with respect," he says. "Throwing your gloves at him isn't going to work, is it, really?"
The woman and another man walk away, but not before getting an important lesson from the guard.
"The army's here to protect the Crown Jewels, they're not here for the public to make fun of."
Over the years, countless tourists in London have tried without success to get a smile or a giggle or any kind of response from a member of the Queen's Guard.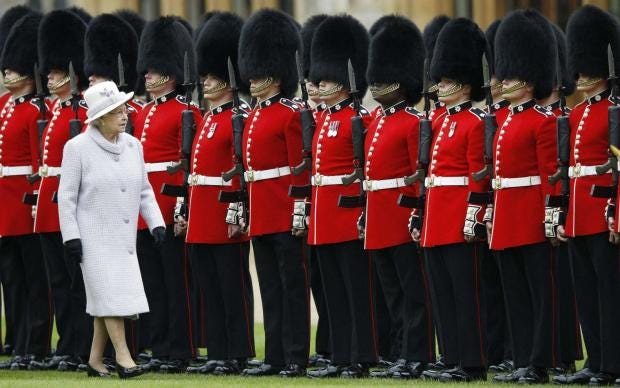 But a video uploaded to YouTube this week suggests they draw the line at physical contact.
At what appears to be Windsor Castle, a tourist can be seen doing the usual "" walking up and down alongside the guard, before resting a hand on his shoulder.
Bad idea.